Wine & Food Pairings from the Pyrenees Winemakers
Ever wondered which foods to pair with which wines?
The Pyrenees winemakers & cellar door chefs have curated a
list of their favourite recipes and wine pairings for you to try.
Summerfield
Slow-Cooked Lamb Woodfired Pizza
Wine match: Summerfield Reserve Shiraz
If you've visited Summerfield's cellar door you will be familiar with their famous pizzas – made from scratch using the best local ingredients to create a mouth watering dish paired perfectly with a rich, full- bodied Shiraz.
The combination of a glass of our Reserve Shiraz with the Slow Cooked Lamb pizza is a seamless match. Plums, cherries, spice, chocolate and mocca frame this wine and it only improves from there. This is what Summerfield Reserve Shiraz is all about.

– Mark Summerfield
The Summerfield Cellar Door is open 7 days, from 10am to 5pm (10am – 5pm Sundays). Pizza is available Wednesday to Sunday lunch as well as Friday & Saturday nights. Click here for more information.
Summerfield Pizza Dough
Summerfield Pasture Raised Lamb
Summerfield Reserve Shiraz
Meredith Goat Cheese
Spanish Red Onion
Mozzarella Cheese
Roasted Pine Nuts
Garden Fresh Rosemary
Spinach, Garlic & Seasonings
Marinate Summerfield pasture raised lamb with Summerfield Reserve Shiraz, rosemary, garlic, spanish red onion, cracked pepper & salt.
Sous vide for 12 hours @ 85 degrees.
Portion, knead & shape Summerfield dough onto pizza tray.
Spread with tomato based sauce, dress with lamb, onion, garlic & rosemary.
Scatter with spinach and cheeses, finishing with roasted pine nuts.
Cook in wood-fired pizza at 370 degrees for two minutes.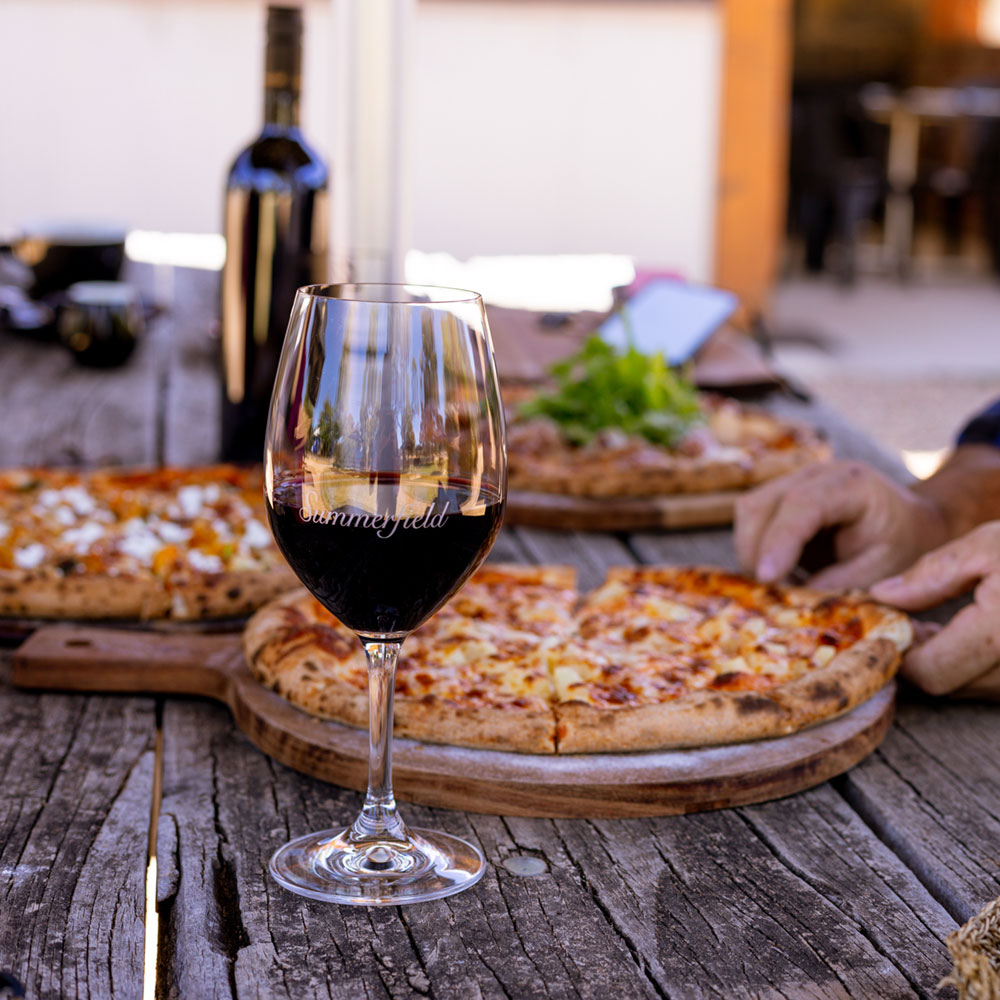 Sally's Paddock
Sally's Nectarine Relish
Wine match: Sally's Hill Cabernet Franc
A flavour that's earned a cult following over the years, Sally's homemade Nectarine Relish is commonly found at the cellar door alongside Neill's famous Smoked Lamb – Neill smokes the lamb with apple wood and hickory and Sally makes the relish with fruit from their own orchard. Enjoy this Nectarine relish with any cold meats and pair with a light-medium bodied, savoury red wine, such as Cabernet Franc.
1 kg nectarines, seeded and coarsely chopped
1 small green capsicum, chopped
85 gm (½ cup) seedless raisins
½ teaspoon ground cardamom
½ teaspoon ground ginger
½ teaspoon ground coriander
1 teaspoon grated lemon rind
1 ¼ cups white wine vinegar
400 g (2 cups, firmly packed) brown sugar
Combine all ingredients in a large saucepan and stir over low heat until sugar dissolves.
Bring to the boil and simmer uncovered, stirring occasionally, for 1 - 1 ¼ hours or until mixture thickens.
Pour hot relish into warm sterilized jars and seal while hot. Keeps for up to 1 month in the refrigerator.
Makes about 3 cups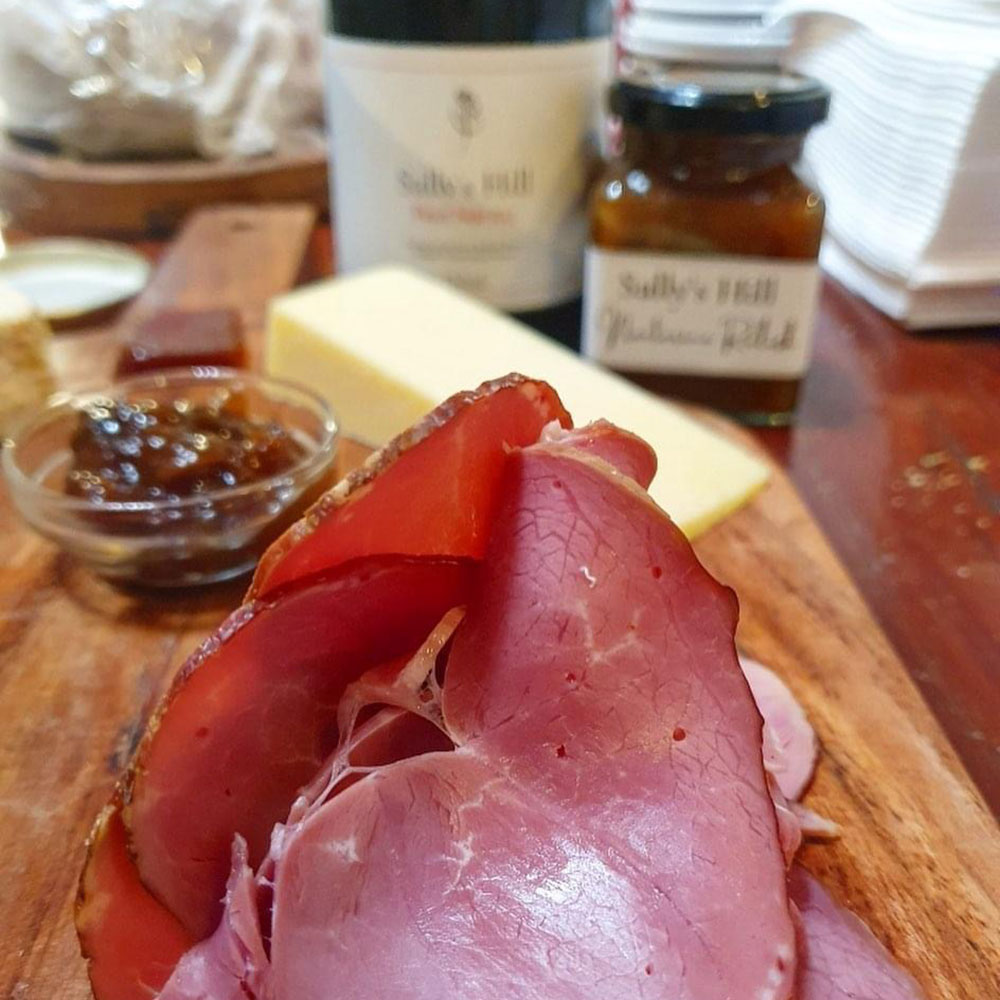 Blue Pyrenees Estate
Mushroom, Polenta Cake, Cauliflower & Garlic Butter
Wine match: Blue Pyrenees Section One Shiraz
Any day of the week at Blue Pyrenees Estate visitors can sample a range of exquisite dishes from Chef Suthat Sathittanakun, each created from the best carefully selected local ingredients.
The creaminess of polenta, richness of garlic butter and earthiness of mushrooms matches perfectly with Blue Pyrenees Section One Shiraz, a medium bodied wine notes of blueberry, mushrooms, black pepper.
Mushrooms – mixed 400g cut into 1cm thickness (we use lions mane & oysters)
2 tablespoons of finely sliced chives

Polenta Cake

100g polenta (instant)
400ml milk
1 gram nutmeg
4 grams salt
10 grams Parmesan cheese

Garlic butter

200g butter
40 grams garlic, chopped
2 grams lemon zest
4 grams pepper, coarsely ground
2 grams salt
5 mL of lemon juice
10 grams parsley, chopped

Pickled pine mushrooms

50 grams pine mushrooms, sliced 1 cm thick
50 mL vinegar
50mL water
25 grams sugar
1 sprig tarragon

Cauliflower

One head of Cauliflower
Oil
Polenta cake

Line a non stick loaf tin with baking paper & grease with oil.
Bring milk up to a boil, add spices & polenta then stir constantly until polenta is cooked (about five minutes). Add parmesan.
Put polenta into the loaf tin and allow to cool completely.
Once cool cut into four slabs.

Garlic butter

In a small pot melt 50g of butter until frothy, add half the garlic & cook for two minutes.
Remove pot from heat & add all remaining ingredients. Mix well to combine.
Place into a container & allow to cool in the fridge until required.

Pickled pine mushrooms

Place all ingredients except the mushroom in a pot & bring to a boil, allow to cool.
Add mushroom & set aside until required.

Cauliflower

Set oven to 250 degrees.
Peel off all outer leaves of cauliflower.
Drizzle cauliflower with oil & season with salt & pepper.
Roast for 40 minutes until cauliflower is dark.
Allow to cool & cut into bite size florets.

To serve

Heat oven to 180 degrees.
Heat a heavy base pan to high, add oil & sear the polenta slabs for one minute on each side.
Transfer polenta to a tray & bake for 10 minutes. Turn off the oven & place four bowls in the oven to warm.
Heat pan back to high heat add 20ml oil & add the mushrooms & cauliflower then cook for 2 minutes.
Remove pan from heat & add 4 tablespoons of garlic butter, stir to combine.
Remove plates from the oven & place the polenta cake into each bowl.
Divide mushrooms into the four bowls.
Garnish each bowl with a few slivers of pickled pine mushrooms.
Sprinkle with chives.

Serves four as an entrée.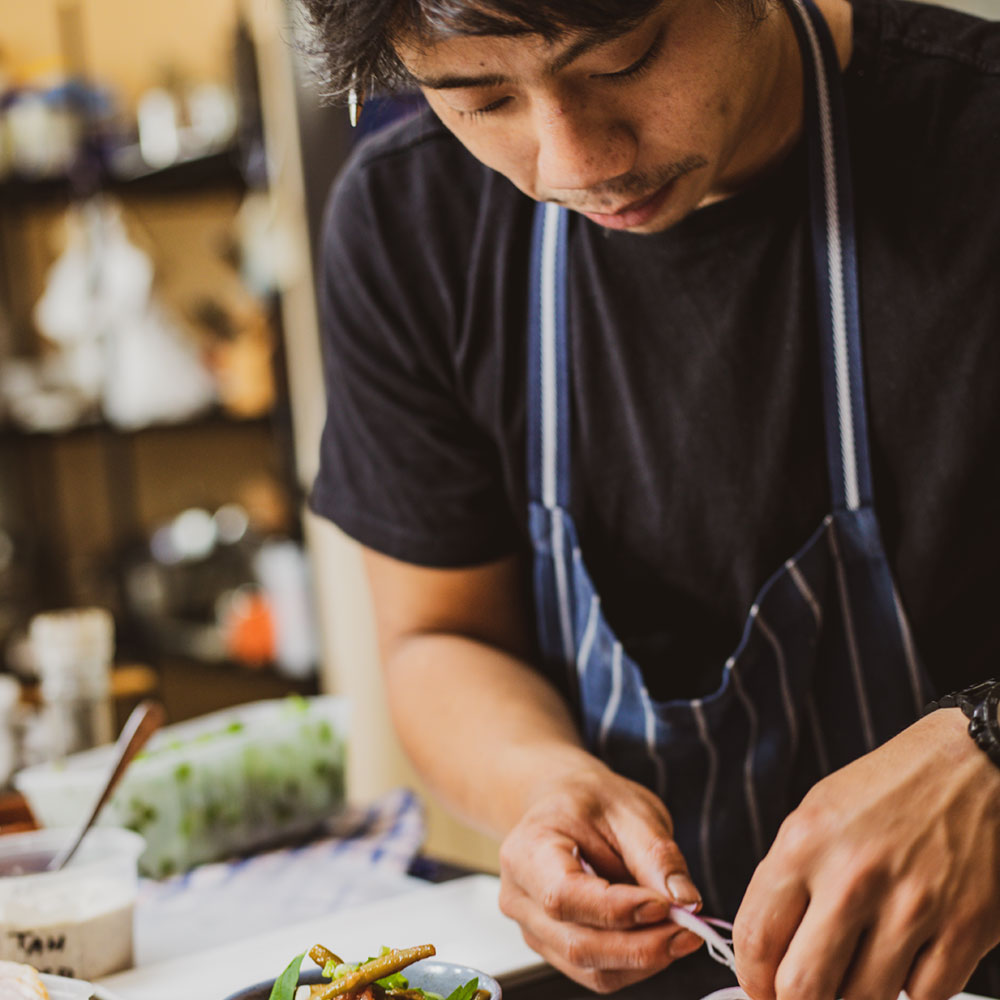 Taltarni
Ginger & Pumpkin Risotto with Goats Cheese
Recipe by Chef Andrea Rigodanza
Wine match: Shiraz Viognier
The food & wine magic being developed out of a partnership with Chef Andrea Rigodanza is definitely worth taking note of – Rigodanza has created an exceptional food and wine marriage with this recipe, best paired with a balanced & medium bodied Shiraz. While the cellar door at Taltarni does not operate a restaurant, guests can enjoy a cheese & wine tasting flight or grazing board by prior arrangement.
Not only does the tartness of the goat's cheese work well with the red forest fruit flavours of the wine, the silky mouth feel of the Shiraz Viognier pairs perfectly with the creaminess of the risotto.
The Cellar Door at Taltarni is open for wine tastings from Wednesday to Sunday, 11am to 5pm – click here for more information.
Pumpkin Cream

500g butternut pumpkin pulp
1 medium brown onion
20 ml olive oil
100g cream
500 ml water
4g sage

Risotto

250g Carnaroli or Arborio rice
80ml Taltarni Fumé Blanc
100g unsalted butter
75g grated Parmesan cheese
25g grated ginger
80g goat cheese
Salt & pepper
Pumpkin Cream

Heat the oil on medium high, slice the brown onion and add it to the hot oil, cook until caramelised.
Cut thin slices of pumpkin and add it into the pot, cook for 5 minutes and add the sage and the liquids (cream and water).
Cook for 25 minute or until the pumpkin is soft enough to be blended.
Blend everything adding some salt and pepper.
We want a watery cream since we are going to use it to cook the rice.

Risotto

Heat up a medium size pot and add the rice, toast the rice until it's very hot, but make sure the grains don't change colour, they have to stay white. This process helps the rice grain to keep its shape during the cooking.
When the rice is hot add the wine, wait until the alcohol has evaporated and start adding the pumpkin cream slowly. When you cook the risotto you can't add all the liquids at the beginning otherwise it's just boiled rice, you have to add the liquids very slowly, just enough so you don't have the rice sticking on the pan.
After 15-18 minutes the rice should be nearly ready, take off the heat and add the ginger and the butter. Mix until the butter has completely melted, now you can add the parmesan and mix until you get a creamy emulsified risotto.
Garnish it with some goat cheese and black pepper on top.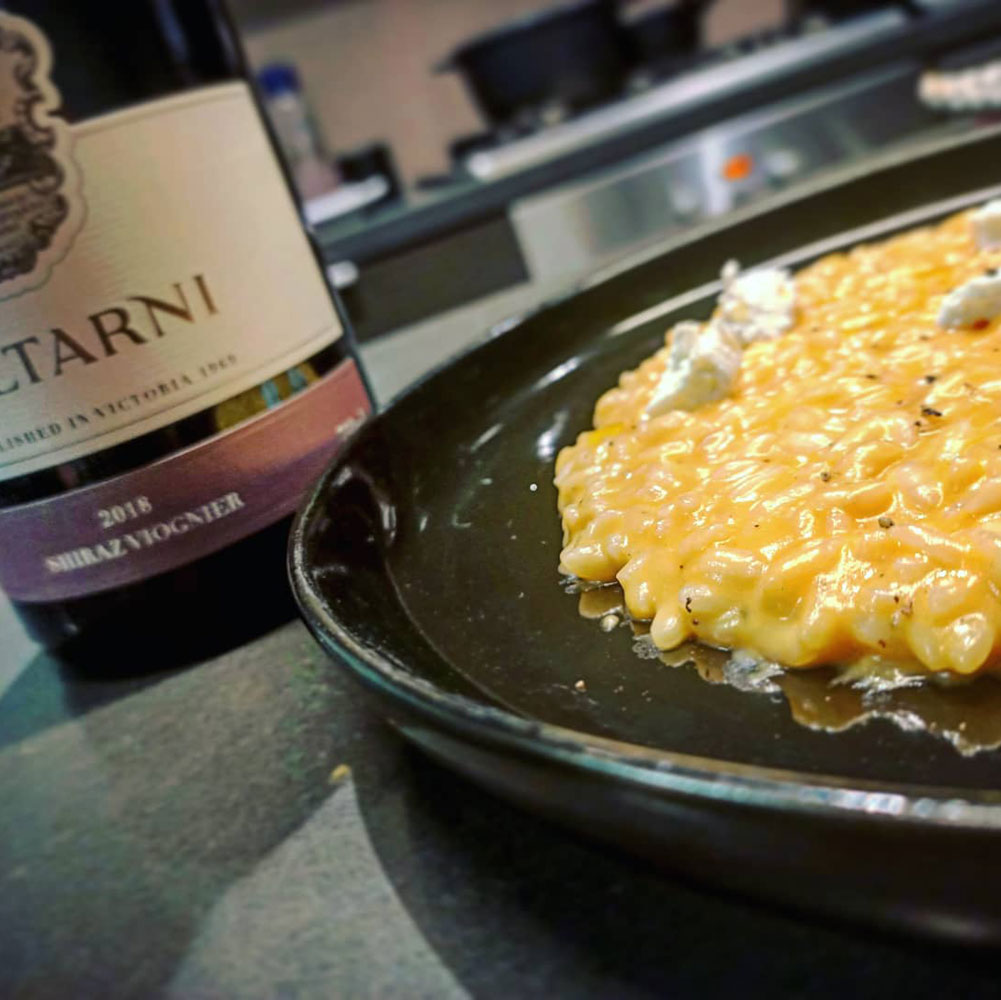 The Pyrenees Grapegrowers & Winemakers Association acknowledges the Dja Dja Warrung people as the traditional custodians of the land on which the Pyrenees Wine region stands today.